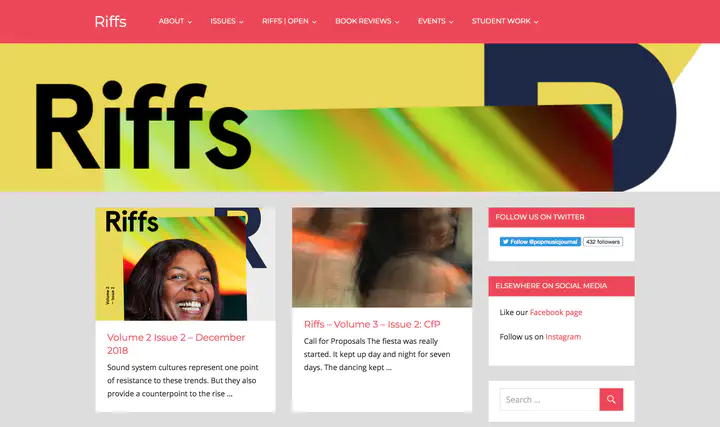 Riffs: Experimental writing on popular music is an emerging and exciting journal at Birmingham City University.
We offer a creative and experimental space for writing and thinking about popular music, in addition to an online forum for the publication and hosting of high calibre research in the area of popular music studies.
Riffs is published twice a year, online and in limited edition print. A Call for Papers will be circulated before each issue. All written, audio and visual contributions should be submitted in accordance with the contributor guidelines.
All contributions must engage with the prompt provided in the Call for Papers. We encourage written, audio and visual contributions that experiment with the expected forms of academic communication. All papers are peer reviewed and editorial support provided by members of the editorial board.
Riffs emerged from a writing group at Birmingham City University, established in 2015 by Nick Gebhardt and supported by the Birmingham School of Media. As popular music scholars, many of the original 'Write Clubbers' straddled disciplines: music; sociology; media studies; anthropology; dance. Some felt adrift, on thin ice.
'Write Club' offered an opportunity of 2,000 words and the space of a table and eight chairs to explore what it meant to research popular music, to write about it, to construct an argument, a description, a song, a line. Once nerves were finally quashed and it became comfortable to watch another read your work, the writing became better and better until it seemed a crime to keep them under wraps, hidden away from curious eyes on a private blog.
In Riffs, we offer up some of our thoughts and writing in the hope that we will be able to read yours, and that each of us will in some small way change the ways in which we think and write about popular music. Consider this your official invitation to Write Club.