Songwriting, Streaming and Sustainability, London, August 2019
Songwriting Studies Research Network - Event 2 - Nile Rodgers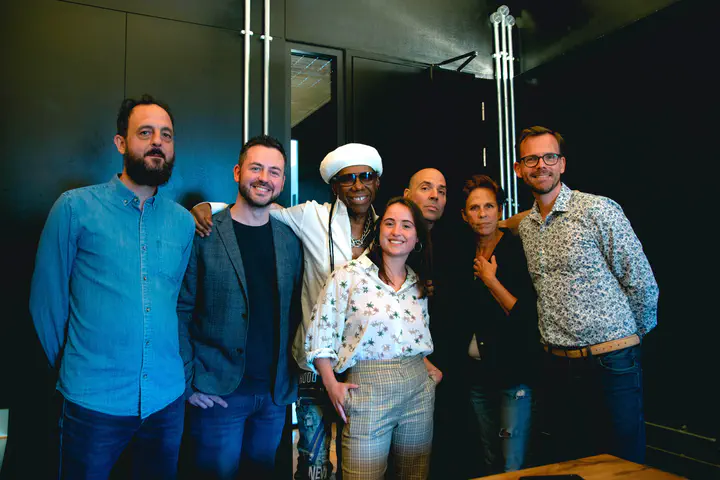 I'm hugely fortunate to be the project co-ordinator on the AHRC-funded Songwriting Studies Research Network, led by my BCMCR colleague Dr Simon Barber.
The network is now halfway though a series of 4 national events, the second of which took place in London last week at The Ivors Academy in London. The theme of the event was 'Songwriting, Streaming, And Sustainability'.
This one-day event focussed on the business of songwriting, exploring how streaming technologies have reshaped the ways in which songwriters sustain their careers. The aim was that network members would encounter the contemporary landscape of these technologies through a series of discussions taking place at The Ivors Academy with professional practitioners, industry experts, and leading academics.
In the evening, Simon and his colleague podcasting colleague Brian O'Connor interviewed iconic songwriter Nile Rodgers and his manager Merck Mercuriadis during a live conversation for their Sodajerker on Songwriting podcast as part of the Meltdown Festival at the Southbank Centre.
You can see a full overview of the day, including photos, over on the Songwriting Studies Network website.

You can see the Call for Proposals for the first issue of the Songwriting Studies journal here
What network members did not know ahead of the daytime event was that we'd also managed to persuade Nile and Merck to be our keynote speakers during the daytime event.
Part of my job on the day was to sneak the very recognisable Mr Rodgers into the building, and during that process I managed to spend a few moments with him. To top things off, and following the Sodajerker event at Meltdown in the evening we found ourselves in the hospitality area. At one point I turned around to see none other than Johnny Marr. During the course of a far-from-normal working day I'd manage to meet two of my musical heroes.
Brian and Simon meet people like this regularly when doing their podcast, and it was hugely impressive to see up close how they do this and maintain a convincing veneer of professionalism. I'm afraid I reverted to my 16-year-old self and the music fan in me took over, as my grin in the photos below demonstrate.
I also got to hold an Ivor Novello award, and in my haste to get hold of it I almost dropped it through an expensive coffee table. But that's another story…