The Ryland Caravan - featuring Gerry Love!
A new summer festival we have put together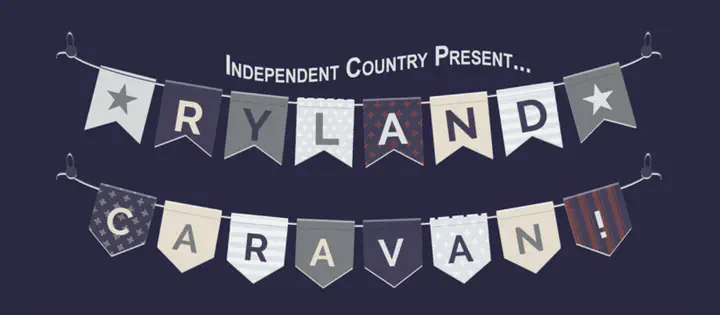 For the last few months myself and the rest of Independent Country have been working on a new event, and it's really pleasing to see it come together and go on sale. The Ryland Caravan will take place on Saturday 27th May at the outdoor theatre of the Midlands Arts Centre (MAC), in Cannon Hill Park.
It's been a great experience pulling this all together, and we are particularly delighted to have secured one of our musical heroes as the headliner. When we first started talking about the event, towards the end of summer last year, we made a wishlist of people we'd love to have along for the ride. Gerry Love was at the top of that list, and I'm really pleased that he said Yes!
Here's some blurb about the event. It should be a great day.
Tickets are now on sale via the mini-site we've put together.
Independent Country curate the perfect open air warm-up for the summer. Like an old time passing show, the Ryland Caravan (named after Cannon Hill Park benefactor Louisa Ryland) pulls in to the MAC's Outdoor Theatre with a non-stop day of live music, conversation and craft fair browsing.
In a rare solo show, headliner Gerry Love reimagines his peerless songbook from his years as one of the main songwriters and vocalists in Scottish indie legends Teenage Fanclub and also his stunning solo album "Electric Cables" released under the name Lightships.
Independent Country's unique mashup of pedal-steel-drenched country rock with UK and US indie classics has won admirers on festival stages across the country and fans from Bournville to Nashville.
Laura J Martin is a mercurial and bewitching live performer who interweaves layers of vocals, flute, mandolin and electronics. She's toured regularly across the UK and Europe and supported acts such as PJ Harvey, Teenage Fanclub and Cate Le Bon.
Clash magazine describes Birmingham's Swampmeat Family Band as "blistering punk edge guitar energy. Americana influenced but also deeply rebellious and intelligent to boot".
An entertaining cross between Desert Island Discs, The Moth Radio Hour & TED Talks, OneTrackMinds is a live storytelling event which explores the transformative power of music.
Also featuring the best independent craft and vinyl stalls, food and drink.